one time i watched a bit from daniel tosh wherein he asked an audience "how many of you have never waited a table in your life?" and a bunch of people cheered. and daniel responded with something like "you people are assholes" and "everyone should wait tables at least once in their life. then they'll realize that their side of ranch dressing isn't that fucking important." and i was all "CAN I GET AN AMEN." and for the most part, if you're a server, you're either good at it or you're not. and it's almost always a server usually making just stupid, easy money for the amount of time you have to work. but the little amount of time you have to work is often evenly balanced out with the ratio of dickbag customers to nice, normal customers. and such is the life of a server.
because this last friday i had an epiphany. like the kind of epiphany where i'm like "if i lose my shit at this customer and get fired will i really be all that upset about it?" because this woman was the worst type of customer. the customer that had been given a gift card to the restaurant, absolutely did not want to the at the restaurant, and had no qualms letting you know that she didn't want to be at the restaurant.
i'll set the scene for you. the woman is sat in my section. i greet her and her husband. she shivers and asks me why it's so cold. i explain that the restaurant is littered with vents for both the air conditioning in the summer and the heat in the winter so it can be difficult to find a table not under a vent but that i would be glad to seat her at a different table if she would like. she would like that. so i scoop up all of her shit and move her. turns out she thinks it's cold at that table and nastily declares "I WON'T BE UNCOMFORTABLY COLD WHILE I'M EATING" and i was all sugary sweet with my "of course you shouldn't be. let's find you another table."
so i point out a third table in a section that isn't my own and recommend that we try that one (considering it's the only actual empty table in the place so she's SOL if she doesn't like that one either). she refuses to move a third time without being guaranteed a warmer temperature so she sends her husband to test it out. the husband returns and declares that "it is significantly warmer in that other room, dear." she seems less than impressed but decides that she'll move again. so i gather up all their shit and move them to a different table. for the third time. it's then she declares that they've never been to this restaurant before and the line of questions i endure for the next twenty minutes can only be likened to the spanish inquisition (or so i can imagine). the couple had never had sushi before. so i painstakingly explained the process in which the sushi rolls were made. that there was seaweed paper, and then rice, and then a plethora of ingredients followed depending on the roll that you selected. and that yes - some had components that were cooked. that yes - tempura meant it was cooked. and that yes - some rolls contained imitation crab meat (she was not pleased about this). and that no - masago was not cheese, but fish eggs. it was after this highly in depth interrogation that i tried to discreetly direct her to our rice and noodle options. like a nice chicken fried rice or perhaps our delicious, and extremely popular, sesame shrimp. but she wasn't having it and snaps at me that she needs more time to decide, because she then mutters under breath to her husband that, "this place is confusing, why did we come here, there are too many options, i don't think i like this place, we shouldn't have come here, etc. etc. etc. (i added the etc. she didn't actually say etc. etc. etc.)." and it was at the moment where i had to all but literally bite my tongue because the next thing out of my mouth was going to be "WHY THE FUCK DID YOU COME HERE YOU MISERABLE TWAT?" but i refrained. and sucked it up and made do with the constant eye rolls and the snippy little comments and i left her alone to decide on whatever the fuck she was going to end up hating later. and when i came back she was still fixated on the sushi rolls and she was not about to be dissuaded. and then she selected my least favorite roll on the menu. and i died a little inside (and later, when i was telling shitler the story, he asked why i didn't suggest a different roll. and i was like "i'll be damned if i end up responsible for suggesting a sushi roll that she ends up ordering and not liking because then that shit is on me and she clearly hates the world enough as is and i would rather not give her any more ammo). and then i carefully repeated "ok then the sushi roll for you, ma'am?" and she replied with "i guess." and i quickly retreated back to the kitchen before she could complain about something else.
and at this point in the night, if i could give you a visual of what i probably looked like, it would be this.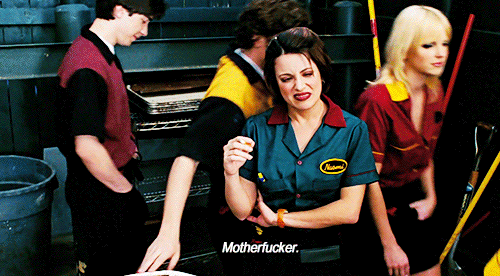 so i brought her the sushi roll she ordered. and she looked beyond dumbfounded and also pissed. and she poked it. like aggressively. and said "this is what i ordered?" and i said
"yes. it is what you ordered. i repeated it back to you, remember?" and she says "i guess." and then continues poking it. i politely let them know that i will be back to check on them. i wait a few beats and make my way back to the table that is literally hell on earth and ask them how everything is tasting. she pokes her sushi roll again and at this point has started dismantling the poor roll. she asks "where is the crab?" and i point it out; that "it's inside the roll, ma'am." and then she declares that she "doesn't think she likes this avocado." and i asked "like you don't like avocado in general?" and she says "no. i love avocado. but i don't like this avocado."
and i say "oh. i'm sorry." and then says "there's too much rice." and then i have to carefully remind her that i explained to her how the sushi rolls were made and that the rice helps hold everything together. and she continued to mash her sushi roll, picking out the crab, and asking why we didn't remove the sushi paper. she continued on with her rampage of destruction until the poor sushi roll looked something like this:
and then she wrinkled her nose, rolled her eyes, and says "i thought i was getting egg rolls."
and i took a giant deep breath and carefully back tracked my way to the kitchen before i said something that was sure to get me fired. because it was in that moment where i weighed out the options and the jumbled thoughts in my brain were like "i don't need the money. the extra money is always nice for buying treasures but i don't need-need it. plus i've never been fired for. i wonder what that's liked. it can't be that bad. this woman is totally worth getting fired over." and then, as if everyone i worked with didn't think i was nuttier than a squirrel turd, i reacted similar to this: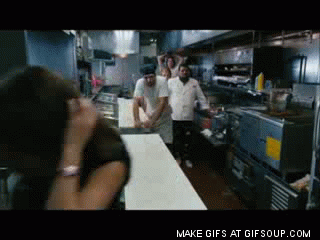 because here's the thing. if you're going to be miserable, and in general a terrible human being, can you at least stay home? crowds of people and strangers put me on edge enough when they're at least half-way nice. but when you behave like you're suffering me water-boarding you is where i tend to draw the line. and furthermore - if you so hated everything about your general dining experience here then i'm not sure why you insisted on ordering the turtle cheesecake and then in a very depressed manner tell me "it's fine."
dear woman who is disappointed in literally everything,
if cheesecake is simply "fine" then there is no hope for you.
fuck you very much,
shan
mercifully they left after eating their mediocre cheesecake. and i had to tell my manager that that table had crushed my soul. and i told him that he either had to let me go without doing any sidework or i wasn't showing up for my shift at all the following night. mercifully he let me leave. same manager i talked about
here
. so bless his soul.
and to the person that bought that woman a gift card to my restaurant.
next time - get her an arch card. hell - i'll even pay for it.
p.s. i wrote another post about waiter-ing. you can read it here.
p.s. i can't get out of work this weekend. here's to hoping that lady doesn't decide to come back.
or anyone like her.