so shitler and i did the unthinkable the other day.
we cancelled cable.
things are touch and go. i'm a little shaky and a lot irritable.
mainly because i have zero access to my favorite channel - BRAVO. i'll readily admit that i watched almost every piece of shit show that bravo could think of. bravo just understood me at the most basic of levels. it offered me shows that made me wish rich people could adopt adults (like me, adopt me!), shows that highlighted people's lives that were bigger train wrecks than mine (therefore not making me feel so awful about my own tragic life), and also shows that made me want to punch babies (relax - ugly babies). so currently i'm in a state of mourning.
but i thought that i would reflect back on the bravolebrities that i desperately want to be best friends with/be my roommate/become my personal bodyguard and drinking pal.
girl is cray squared in the best possible way and she cracks me up. there's nothing i like better than watching a hilarious woman who enjoys drinking, make obscene comments that make my jaw drop. bitch gives zero fucks and makes no apologies for her whacked out behavior (at least not a lot of apologies). and make no mistake - i enjoy brandi immensely. i'm not sure how people can't get down with a girl that calls out the stench of another woman's vagina on live television, nor a woman that makes the clear distinction "i'm not a bully, i'm a bitch."
personally i've been looking to get into more bullying lately and if i had to pick a bravolebrity vicious enough to assist me i would go with brandi.
best brandi gifs are as follows: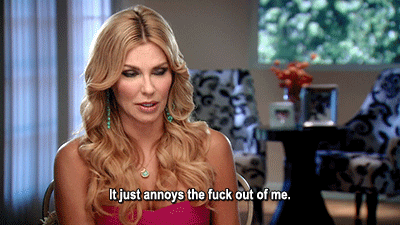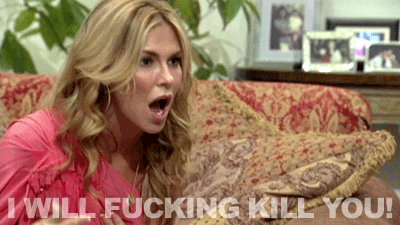 BRANDI - call me.
i die for shahs of sunset. like i want to be persian and wear all gold everything and have creepy witch-pointed nails like GG. chick is a giant bag of crazy and mainly she scares me shit-less so i feel the need to side with her on everything whether she's right or wrong out of sheer terror at what she could do to me with her very much talked about knife collection. also she goes camping with her family and i wish she would invite me along.
SIDENOTE - homie is a tiny little thing and i get the distinct feeling she would wreck me if she ever felt the need to brawl with me.
also anyone that says "if you come at me backwards, i'll come at you sideways" wins all the things.
best GG gifs are as follows: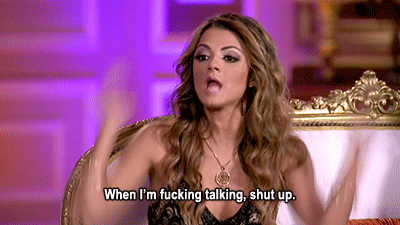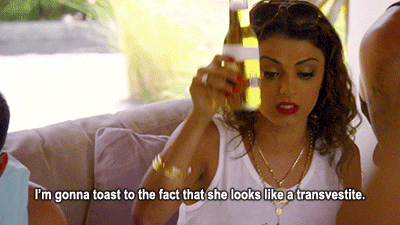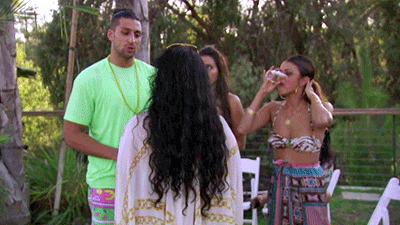 GG - you're the cutest, most terrifying litter bug i ever did see.
i don't know how she does it but homegirl pulls off bitch better than anyone i have watched on television. there is literally nothing that stassi can't do once she puts her mind to it. some other bravolebrity that i can't remember once decreed "DON'T COME FOR ME UNLESS I SEND FOR YOU" and this is pure stassi through and through.
lady stassi dismisses people, controls people, and is the all-around HBIC (head bitch in charge in case you live under a rock and don't know what that means). typically i'm one to be extremely annoyed by people that make their birthday (just your yearly reminder that you are, in fact, one year closer to death) a week long event that they can't shut the fuck up about. but stassi is someone who's birthday should be celebrated every.day.of.the.year.
she needs to teach me her ways.
best stassi GIFs are as follows:
stassi - don't be alarmed that you're the only waitress that i've ever wanted to skin and wear.
i don't know why i'm attracted to such train wrecks of crazy. but i would give my right arm (my dominant one, mind you) to be a fly on the wall of any of their domiciles. also, if i had one wish, it would be that stassi was constantly on television. like mainly on a local cable channel because we just got a satellite thingy and we get like six whole channels. i realize this post has been entirely about women from reality television that i kind of want to mouth kiss, BUT IN A PLATONIC WAY, and i'm not the least bit sorry if you came here and and you now think you've wasted your time. i know i wasted my lunch hour surfing through all sorts of GIFs of stassi just to get my bravo fix. whatever.
honorable mention goes to lisa vanderpump.
because if adults could adopt other adults i'd punch a pregnant woman to make it happen.
p.s. none of the GIFs are mine and i didn't make them nor do i take credit for them. they either came from
here
or from tumblr and i'm too lazy to go back and find where i got them. so blow me.