PSYCH. no twerk video.
just an attempt to prey on the fact that everyone is all riles about miles and her twerk videos and lure you in.
like everyone else on the planet i have the potential to turn into a raging bitch.
and on a regular basis for that matter (ask shitler since he often tells me i'm the meanest person he knows).
which, when i think about it, happens to make me semi-unfit to be a part of the blog world (which p.s. typing that just made me throw up in mouth).
mainly because the blog world is chock full of goddamn inspirational shit that reads "choose joy" or "be your best self" whereas in reality i'm all "no. leave me alone because i want to stew in my own twatty bitch mood and also i don't want to build you up because ZOMG we should just because we're women and we need to stick together." mainly i want to tug your weave a little a la sheree and kim z and have things escalate because when i'm in my bitch zone because i wouldn't piss on fire to put you out (thank you eminem).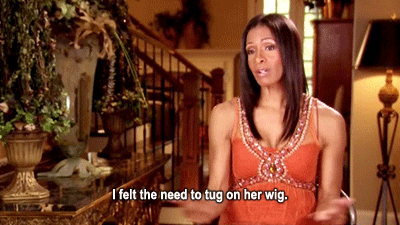 i guess the round about point i'm trying to make is that i'm so sick of everyone fake playing nice and acting like they're abhorred by catty behavior. that's all well and good and in most cases probably what should actually happen but it's just not reality. i think too often people try to bury their snark wherein if you think someone posted something fucking awful you're entitled to feel that way about it. and this certainly makes no one a bad person.
own your shit. bloggers have chosen to put themselves out publicly and with that comes criticism (and sometimes that criticism will be neither constructive nor respectful) but we can all put our big girl underwear on and fucking deal with it and not whine about getting our feelings hurt. i'm almost baffled on a daily basis when bloggers flip shit over the opinions of virtual strangers they only "know" through the internet machine.
let's all just own our bitch-self.
embrace the side-eye.
cue the eye-roll.
and here - i'll be the first to admit that my daily blog-reading goes something like this:
oh lawd i would skin that girl and wear her if i could. wait - is this a bible study?
cute kid, cute kid, cute kid, HOLY SHIT never post another picture of that not cute kid.
oh what's this - marriage advice you say? oh even better - marriage advice from a toddler-excuse-me-girl and she's been married for a hot minute. how useful. thank you so much.cute kid, cute kid, YAWN giveaway.
BUMPDATE. i wish they would stop comparing them to foods i like to eat. it takes me to a weird place.
OH - sponsored post? how neat of you to do this again.
HAHAHA that crazy drunk bitch is hungover again (ugh do i feel her pain).
#OOTD? i wonder if people would take it the wrong way if i did my own take on it? and by own take i mean a burlap sack with like maybe a beer-can-6-pack type necklace and my middle finger as my best accessory? no - better not.
sweet lord do i need a break. kidding blogs - i can't quit you.
oh look at her - if she loved her life anymore she may explode. oh the sun must shine of "HUSBAND'S ASS" and that's why she's so chipper.
oh hey a picture of cheese fries? now we're fucking talking.
look - i'm not here condoning being a mean girl (ack does that reference make me cringe).
but what i am advocating for is not everyone being such a pussy.
know that if you think that i'm thinking something mean then you're probably right.
know that there's at least a dozen bloggers who i read that i think are bat-shit-crazy-funny and they turn me on in probably a really inappropriate way. and i dig them for that.
know that when i comment on your blog it's because i read you on a regular basis and that if i threaten you with physical violence because you're so pretty that it's coming from a place of love.
but mainly know that you will never get bullshit positive reinforcement from me because that's not how i roll. and if every blogger is going to cry foul when someone has something non-flowery to say that doesn't blow rainbow sparkles up everyone's ass then what are we all really doing here?
in closing (
because i want to pretend i'm in college again and in a public speaking class that i never took
) one of my favorite authors, gillian flynn, wrote a short essay years ago. it's her thoughts on women and it has to be the most honest and raw things i have ever read and i can't help but love and agree with each and every word. you can read it here but my favorite excerpts are below.
p.s. this is not me encouraging women to accept ourselves at our very worst but merely offering up the advice that it's ok to embrace the bitch.