it's payday friday ya'll. you know - that one day of the week where you feel uber rich for a hot minute until every bill gets taken out and then you're back to being dirt poor again. #SadTrombone
i'm going to need for everyone to get on the "we're all super jealous of shannon" caboose part of the train because this skank has a half day today during which traveling to waupaca and the chain 'o lakes will commence, and then i'll drink my face off, and then come back monday and still not have to work.
so basically this is me now and also for the entire rest of the weekend: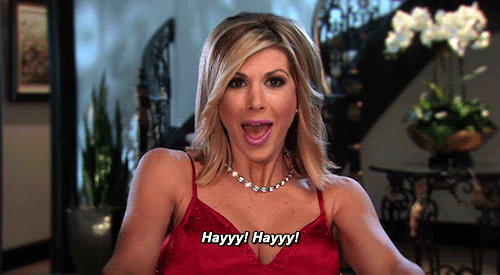 ANYWAY - i've compiled some things that i'd like to share with everyone.
for high-fiving purposes.
1// look. get drunk around me and you'll end up with a fancy pen tattoo. i'm basically an artist.
2// someone wanted to take their leftovers home. and by leftovers he means one lone tomato and a piece of droopy lettuce.
3// it's embarrassing when you get excited over the fact that you were given "maybe you touched your genitals" hand sanitizer and then you watch a shameful amount of real housewives of orange county reruns that you've already seen a kajillion times and squeal in glee when you realize you have the same hand sanitizer that heather gave to tamra.
4// operation not be a fatass was in full effect this week and i hated every fucking minute of it. working out is stupid and i just need immediate results like yesterday. i want to do the least amount of work and have the best possible outcome which is probably what makes me so american. #FACE
and lastly because of the half day and the boozing and the general loving of life i'm especially excited to be backing dat azz up courtesy of
whit-zizzle
. so maybe let's get our grind on and you remember when lil wayne sang about how he let her l-l-lick him like a lollipop.