you know that lead with the chin jut-thing people silently do towards each other that i think means "hey" or perhaps "you know" or "that's what's up." i'm fairly positive you have no idea what i'm talking about because my mind is a cluttered place of nonsense but basically this morning on the drive to work i hit shuffle and one of my favorite songs of all time came on. FIRST. it's like friday was high-fiving me and all "girl - you got this."
and by "got this" i mean: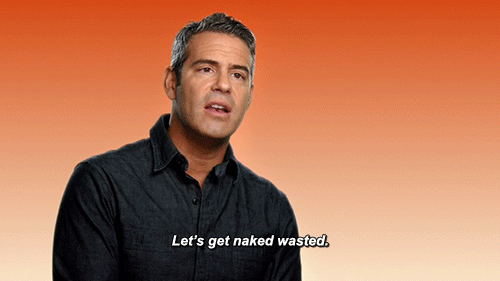 i'm kidding. kind of.
but kids - it's friday and that means we made it.
in reviewing my week i realized nothing spectacular happened. worked out a couple times - yawn. had some super inappropriate textual conversations with people - hilarious.
shopped for lots of penis paraphernalia - normal.
so if i had to pick five things to high-five this week these would be them:
1// just looking at that tulle makes me want to upchuck. and i can't even blame being drunk as to why i thought getting glittery tulle was a good idea. because now it's on every.damn.thing in the house. including the hounds. and shitler.
2// mac does these ridiculous poses. like sometimes he's all fancy with his one paw sticking out, and then sometimes he's doing yoga poses like downward facing dog, and sometimes he stares at a toy so hard that you know the only thing he's thinking about is just destroying the shit out of it.
3// so.much.dick.stuff.
4// nothing like getting propositioned by your friend's seventeen year old step-son. to be fair - i would have for sure headed right over had shitler not just oiled himself up.
5// and tiny shitler. i cannot even handle it. like at all. because he has the most devious look on his face in every picture of him as a young one. it's just the kind of face that screams "i fucked some serious shit up earlier and i'm just waiting for you to discover it."
you know how you know you're old?
when you begin to forget the bus trips to and from your high school soccer games where you and all your hardcore teammates used to jam OUT to oukast. but i'm bringing that back today.
here's my
azz
and here's me backing it up. just picture it in your mind.