anything wedding-related befuddles me.
my train of thought usually goes something like this:
"wait - you paid how much for tiny personalized tubes of bubbles?"
"i'm sorry but lavish centerpieces like on 'my sweet 16' are an actual thing?"
"sweet lord a venue costs that much?"
"excuse me how many people are invited? jeez - i don't even know that many people. am i a loser?"
"so not every girl imagines herself just heading to the courthouse, banging out a marriage in front of a justice of the peace, and then heading straight to the bar?"
honestly. it's like the entirety of the wedding industry is just punking everyone and since that show isn't around anymore everyone just keeps falling for it.
so basically it's ashton kutcher's fault. THANKS A LOT ASHTON.
because this is me in a nutshell about all weddings and their nonsense: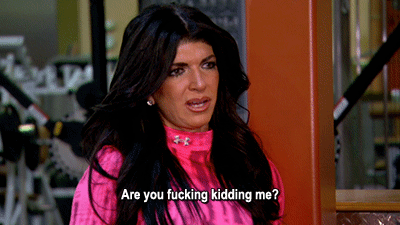 considering the fact that shitler and i have been together since diapers it was damn hilarious to see so many of my friends getting engaged and then run the marriage-planning gauntlet. mainly because all i kept thinking to myself was "all my friends are getting married and i'm just getting drunk."
and then i'd drunk-giggle to myself and pass out on the couch. so when shitler proposed last september i pulled a david at the dentist and was all "is this real life?" and then when i discovered it was real life i was like "now what? do i do things?"
because if you come here often you'll know that i'm governed my inherent and overwhelming laziness and also my general "i could not give less shits about anything" attitude. so to say that i'm at the opposite end of the insane bridal obsessed-i've-been-planning-my-wedding-since-i-was-six spectrum would be an understatement (because seriously there were better things to do when you were six. like play red rover and ghost in the graveyard. your six-year old self needs to retro-actively get their shit together).
but there's a point to this.
because on the list of wedding-things i don't understand are bridal showers.
bear with me. i understand the point of them. i understand that you and whatever dude you're marrying are going to be "LIKE EMBARKING ON LIFE TOGETHER" and that apparently means you need shit like seventeen different colored spatulas, or perhaps shrimp forks because "OMG DUH - everyone needs shrimp forks," or even worse that silver tea set you've had your eyeballs on. but here are some reasons why i don't like bridal showers.
1. BYOB?
apparently it's weird to ask if it's BYOB. which, in my defense, isn't something so crazy to ask. chances are they're serving up some sort of punch with thirty ingredients that are guaranteed to give me gut rot so if it's cool to bring my flask or miniature bottles of booze i'll do so.
2. fish in a barrel.
i'm by no means IRL popular. at all. but i swear that my general distaste for having to do things i don't want to do or be forced to hang out with people that i would be content never seeing again somehow turns me into the person that everyone wants to be around. and for what reason i don't know. suddenly, now that you're at the shower, it's everyone's opportunity to talk to you, grill you, try and joke with you, and generally annoy you. it's as though 75% of the people in that room are people you don't want to talk to and were mildly successful at avoiding before you had to attend the fucking bridal shower and said bridal shower ruined everything.
3. the registry.
i could think of a thousand better things to register for than what the appropriate things to register for are. is it possible to register at my favorite bar? like for shots? eleventy-billion throw-a-way tupperware contains because duh. paper plates instead of expensive, stupid china because whatever environment i don't like doing the dishes. gift cards to clothing stores so that i can just buy new clothes when it comes time to do laundry. one of those IV-drip machines so i can fill it with coffee, insert it straight into my bloodstream, and wheel it around with me wherever i go.
4. the gift-opening.
is it just me or am i the only one that thinks it's borderline ridiculous to sit around and watch someone open a thousand gifts that they've picked out for themselves? i mean, don't get me wrong, i would never be mad at the stuff but can't they just take that stuff home and open it? then drop a thank you note in the mail? basically you turn, at tops, what should be an hour-long shindig into an entire day-ruining event.
5. wish drinking.
let's be honest - bridal showers leave you spending a majority of the time wishing you were drunk.
because of all of the above reasons.
all bitching aside i'm totally having a bridal shower.
at the bar.
you're all invited.
bring your best drinking outfit and be prepared to level up.